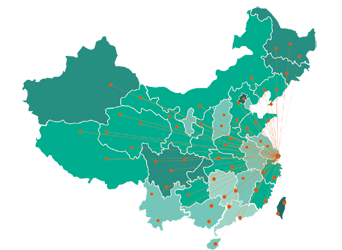 China is a huge country, with rising demands for high-quality medical devices. The geographical enormity of the country poses a logistical challenge. To counter this challenge, we provide your business access to a nation-wide distribution network.
Consisting of 393 distributors.
A number of 9,700 employees distribute medical products into all provinces of China, every day.
With a fleet of 545 vehicles we provide a fast growing number of 1.000 hospitals and more than 10.200 practices on regular basis.
Therefore you have the ability to manage the distribution of your products efficiently and effectively to anywhere in China using a single partner.